Compete 2020 Productive Innovation Project
Fernando Ferro & Irmão, S.A. welcomes that it has the recognition of Compete 2020 of the value and merit of the Productive Innovation Project presented to the call 20/SI/2015.
One of the 100 best companies to work
"Exame" Magazine distinguished us as one of the 100 best companies to work in Portugal.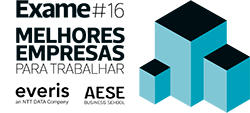 WE ARE SPECIALIZED
IN MECHANIZATION OF TECHNICAL PARTS.
WE STAND OUT FOR
THE RELIABILITY AND QUALITY OF OUR PRODUCTS.
THE QUICK ANSWERS THAT WE OFFER TO OUR CUSTOMERS IS OUR MAIN ADVANTAGE.
WE HAVE TECHNOLOGY
ABLE TO RESPOND TO THE CHALLENGES THAT WE ARE ASKED.